Property in Aquitaine - Dordogne
Selection of properties for sale in Dordogne
We will help you to find your house in Dordogne and Perigord. JB FRENCH HOUSES offers property in the department of Dordogne, Perigord, Gironde and Lot et garonne. The Dordogne region of South-West France is one of the most beautiful and popular regions of France. Visit and discover this beautiful region of south-west of France, beautiful medieval towns and villages, unspoilt countryside and prehistoric caves are just some of the reasons why the region has been attracting visitors for many years. There are many 'famous sights' in the Dordogne, including : Lascaux caves; Marqueyssac gardens; medieval Sarlat; Chateau Castelnaud; prehistoric caves in the Vezere Valley, etc. Yet it is the places that you visit outside these 'hot-spots' that will stay longest in your memory - the scenery, the peace, the coffee in a small cafe, the picnic next to a stream....
JB FRENCH HOUSES can now offer the following new FREE SERVICES(buying or not buying through us) : 1) Legal help from an English speaking French notary(normal Notary fees will apply with no extra cost). - 2) Opening a bank account -3) Getting a house insurance quote from an English speaking French company. 4) Someone to help with exchanging your money(this service is already in place). 5) An introduction to a French mortgage company if required.
For information, no properties will be added between Monday 26th december and Saturday 31st December and we will add only half of the normal amount of properties on the 1st week(from 2nd to 07th January) and 2nd week(from 9th to 14th January) January but we will be available to answer your calls and reply to your e-mails. On the 16th January, we will add properties as normal.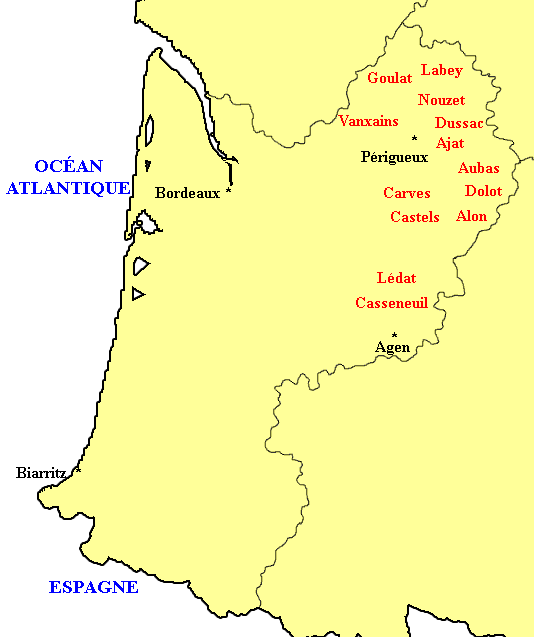 Click on the area of your choice(THE RED WRITING) on the map and discover our properties
If you have difficulty in location any of our area names from the map, please use the following link : www.maps.google.com (do not forget to write the name of the area and France => example : Burcy France). E-mail: jeanbernard@jbfrenchhouses.co.uk. Tel: 02392 297411 / Mobile: 07951 542875. Please read our disclaimer carefully. If you want to print a property, click on the picture and then print from that page. To view more properties select the page number below. All the £ price on our website is calculated with an exchange rate of 1 pound = 1.1554949562645158 Euros