e-mail: jeanbernard@jbfrenchhouses.co.uk Tel(UK): 02392 297411 Mobile(UK): 07951 542875 Disclaimer. All the £ price on our website is calculated with an exchange rate of 1 pound = 1.187 Euros
For information : the property is not necessarily in this area but can be anything from 0 to 30 miles around. If you buy a property through our services there is no extra fee.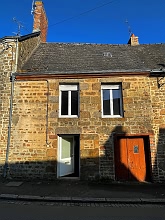 Ref : LESBOIS3920
LESBOIS Mayenne
35,900 Euros
(approx. £30,232)
Mid-terraced stone and slate property(50 sqm), situated in a town not far from the shops, in the area of Gorron, with no garden area, just a courtyard which as a right of way for the neighbour. No heating : PVC double glazing. Connected to the mains drainage. Works needed : new kitchen and bathroom, modernisation and decoration.
Partly renovated
Basement : cellar. Ground floor : kitchen/living room with a fireplace and tiled flooring(units needed). First floor : landing with wood flooring, bedroom with wood flooring, bathroom with lino flooring, a sink and a toilet. Second floor : bedroom with carpet flooring and a sloping ceiling, store room.